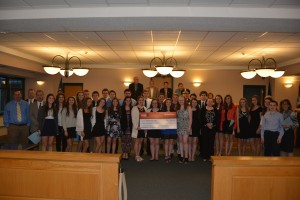 Wellcore, Inc. was pleased to be honored on April 21, 2015 by the Orangetown Town Board at a graduation ceremony for the students from Tappan Zee High School and Pearl River High School who completed the Orangetown Youth Court program. Wellcore was presented with a check for $51,000 from the State Farm Youth Advisory Board for a service-learning grant to benefit the Youth Court program.
Orangetown's Youth Court program is a youth-led juvenile justice alternative designed for and operated by youth, which focuses on restorative justice and trains teenagers to serve as jurors, judges, and attorneys. Youth Court members handle cases involving their peers and use positive peer pressure to ensure that young people who have committed minor offenses pay back the community and receive the help they need to avoid further involvement in the justice system.
Through the program, Youth Court members learn about the justice system and gain a unique opportunity for civic engagement, and juvenile offenders make amends through constructive sanctions such as community service. Typical cases heard in Youth Court include shoplifting, criminal mischief, larceny, vandalism and cases involving substance abuse. As part of sentencing, youth meet with a Wellcore professional for a comprehensive assessment and receive appropriate education as well as referrals for counseling, drug or alcohol treatment, and/or other services as needed.
Orangetown is one of 65 community organizations to receive a service-learning, youth-led grant across the United States and Canada. The State Farm Youth Advisory Board has granted over $32 million in grant money since its inception in 2006, empowering youth to implement service-learning in 520 communities.
About State Farm®:
State Farm and its affiliates are the largest provider of car insurance in the U.S. and is a leading insurer in Canada. In addition to providing auto insurance quotes, their 17,800 agents and more than 65,000 employees serve 81 million policies and accounts – more than 79 million auto, home, life and health policies in the United States and Canada, and nearly 2 million bank accounts.Commercial auto insurance, along with coverage for renters, business owners, boats and motorcycles, is also available. State Farm Mutual Automobile Insurance Company is the parent of the State Farm family of companies. State Farm is ranked No. 43 on the Fortune 500 list of largest companies. For more information, please visit State Farm.
About the Youth Advisory Board: The State Farm Youth Advisory Board is a diverse group of 30 youth, ages 17-20, who were chosen through a competitive process to lead and oversee this $5 million/year signature service-learning initiative. The Youth Board identified the issues, issued competitive grants and will now provide technical assistance, communication and oversight to site grantees. For more information, please visit State Farm Youth Advisory Board.
Read More